Our clientele have needs ranging from custom new construction to remodels and additions to existing structures.  With over 19 years of experience in all these areas we deliver a quality product sure to please the most discerning tastes.
Against the Grain offers personal design consulting for anyone with an established budget and timeline looking to engage in custom new construction, remodel of an existing structure, invest in an addition to their home or office, or a facelift for existing cabinetry.
Consultations include kitchens, bath, built-ins, custom furniture, or special projects for any room of your house or office. Ian will sit down with you and help you determine what style you are looking for and narrow down your vision of the final product.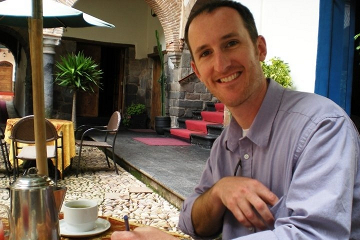 Owner and designer, Ian Ratcliffe has been honing his skills in custom cabinetry and furniture making for over 19 years in the greater Charlotte area. Ian and his team have a well deserved reputation for quality and product excellence.
The son of artists and free thinkers with ties to Asheville and the beautiful North Carolina Mountains, Ian was born into the very nature of the master craftsman small business mentality. Do what you love, what you have a natural gift and talent for, and do it on a personal level.
If you ask him Ian will tell you his first love is meeting with clients. "The excitement of a new project, a new challenge, being able to hear someone describe the vision they have in their head and then show it to them in reality. It's quite thrilling and definitely a feeling of satisfaction in achievement and a job well done when you see a client's face light up when they see that you have given them the vision."
"Against the Grain seemed like a natural fit when naming my business," Ian explains. "I have always wanted to do things in an out of the ordinary kind of way. I want to do it my way, the best way I think. Often retail driven mass produced products are built a certain way because it is a more efficient process, not necessarily because it's the best way to do it. By keeping my company small, being directly involved in how things are done, interacting personally with the clients, I am able to give them what big box stores cannot. I give them first of all what they want but I also give them a hand crafted, durable, quality product that I would be proud to have in my own home."